Discussion Starter
•
#1
•
One of the most common oil leaks on the 8th gen v6 is the oil filter adaptor, if underneath your car looks like this
and you have a drip from the filter while the car is running, that's your issue. The part is very inexpensive from the dealer, here is old vs new with the adaptor on the right
To do this job, you will need a jack, jack stands, 13mm and 15mm deep sockets, , 10mm socket, a ratchet, a screwdriver, 3" and 6" extensions, a universal joint, a drainpan, a lugwrench, and a serpentine belt tool if you have one, otherwise you can use a ratchet.
First remove the two 10mm nuts holding the coolant reservoir at the top and move it out of the way, then loosen the belt by turning the tensioner towards the front of the vehicle and sliding the belt off of the power steering pulley.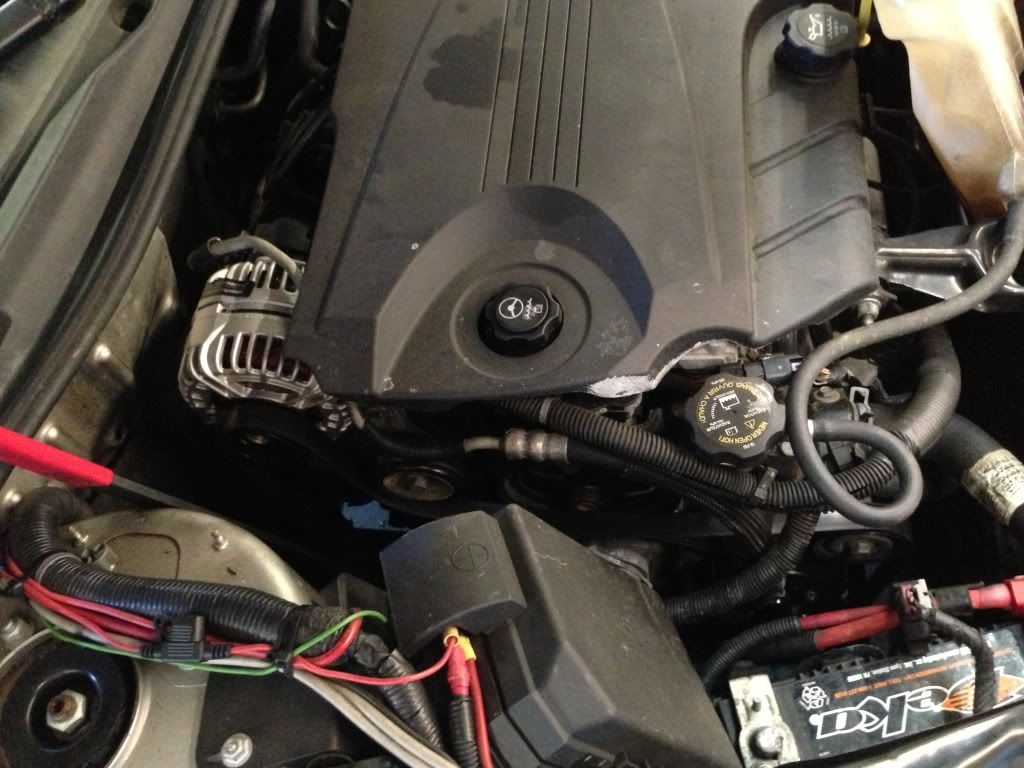 Next raise and support the front of the vehicle, remove the passenger front wheel. Loosen the lugs before raising if you don't have airtools.
Remove the splash shield, there are 3 clips holding it in place, unscrew the little Philips screw in the center and they will pull out, just push them in when you put them back.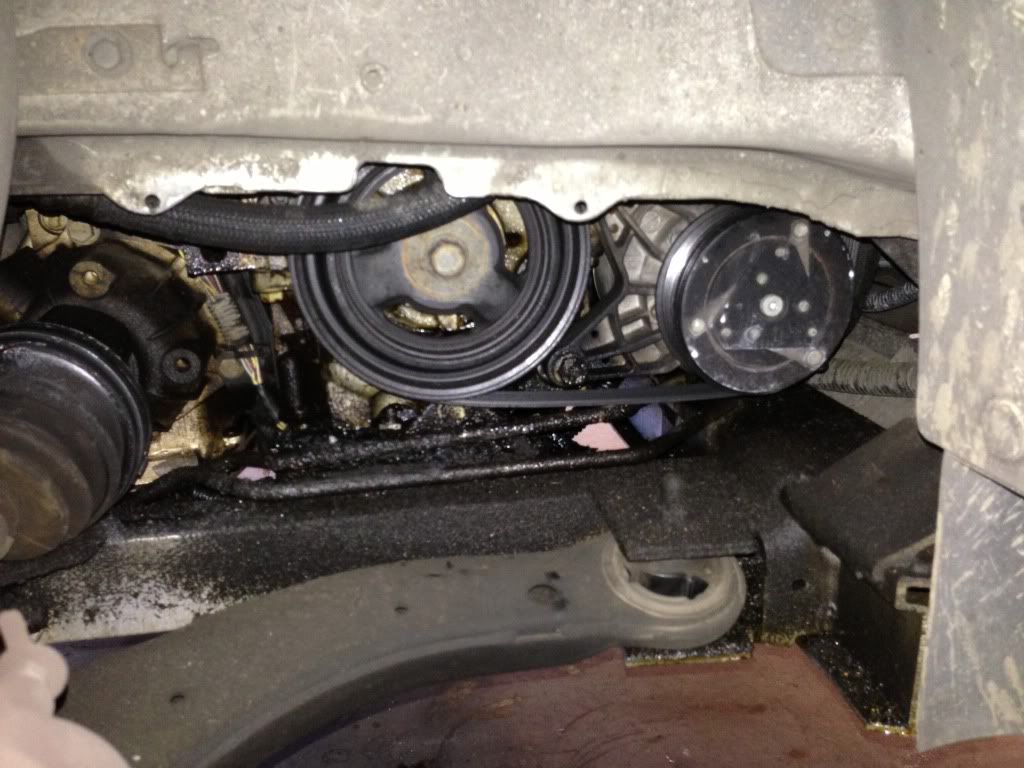 Next remove the nut and bolt holding the AC compressor, shown top (nut) and bottom (bolt) using the 15mm socket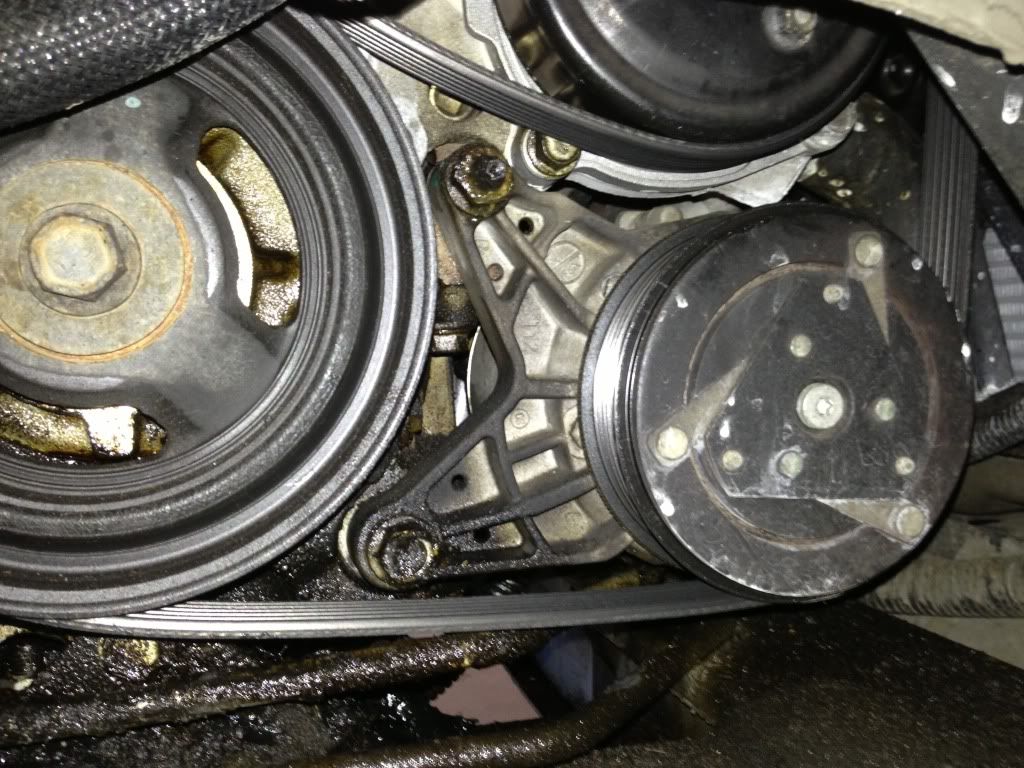 Now get under the car, place the drainpan underneath the filter, and remove the filter. Let it stop dripping, may take a few minutes, but it's better than oil running down your arms. Reach up and unplug the oil pressure sensor attached to the housing. Now look up by the compressor and you will see one more bolt holding it in place, also 15mm
Loosen this bolt, no need to remove it. Now slide the compressor towards the passenger side, it only needs to move a little.
Now you can access the bolt on the side of the housing, there are 3 in total holding it in place. Use the extensions and universal joint with the 13mm socket here. It works best to go in from the front of the subframe, just pull the plastic shield down and you'll have room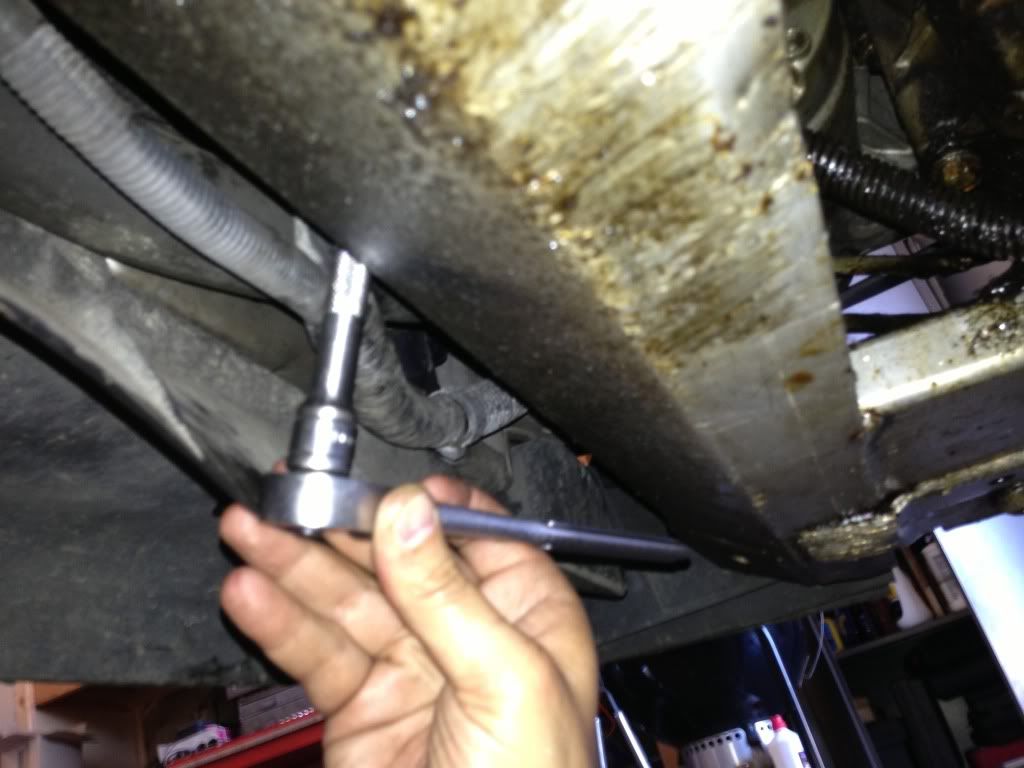 Remove the adaptor once all 3 bolts are out, remove the old gasket. Getting the new one to stay put is a little tricky, but you'll notice one of the bolt holes is slotted, start that bolt a few threads first and it will help keep things aligned as you get it in there. I don't use any particular torque spec here, just tight. I would recommend a new oil filter, but you can put the old one back if you want, it won't hurt. Move the compressor back in place and tighten the nut and bolt on the side first to ensure alignment before you tighten the one underneath. Everything else is the reverse of the above steps. Once it's put back together start the vehicle and double check for leaks, shut it down and check and top off the oil, you will have lost between 1/2 and 1 quart. That's it! This process took me 1 hour while stopping to wipe my hands and snap pics, give yourself 2 hours to be safe.