I recently posted about some hubcaps I was restoring in the Buick Roadmaster section. i restored the hubcaps, and posted pics in that forum, and then was asked how i did it. I think it's a good time to break in this forum.
Step one, hubcaps and jewels: After removing them from the car they were on, and paying a whopping 3 dollars a piece, I washed them in the kitchen sink with some dishwashing detergent. Dishwashing detergent is great to wash parts like this in, it's a light oil breaking detergent, and won't melt or otherwise distort plastic.
Step two, hubcaps and jewels: Remove the plastic center caps.
Step three, hubcaps: I SCRUBBED, and SCRUBBED, and SCRUBBED the hubcaps with detergent and a soft bristled brush to keep them from scratching, then I polished them with stainless polish and a soft cloth. At the base (central to the cap) of the slots there are black painted sections, I touched them up with some flat black paint i had laying around, as needed. Done with the caps.
*Edit* Two of the caps must have spent their whole lives on the front wheels, as after cleaning and scrubbing they remained a yellowish color. To restore these i used a technique called "rubbing". It's a technique I learned from my mother and her pottery. If you want to give a color like red a metallic sheen you use a soft lint free cloth and apply the paint to the cloth, then rub the surface to me "metallized". I did this with the two yellowish caps, using some chrome hobby spray paint applied to the cloth. They are indistinguishable from the other two from about 5 feet. With those two one one side, and the other two on the other side, you can't tell. I put them both to a side since they look identical and you can only see one side of a car at a time.
Step three: I cleaned the paint off the back by scraping it off very gently with a combination of razor blades and brillo pads. Try to mar the plastic as little as possible. If you do, it's not terrible, see step four.
Step four: I matched the paint as closely as I could to the hood ornament on my roadmaster. I left as much of the chrome on as I could, it's really hard to get chrome paint that'll match. Then I wet sanded the plastic on the back where I scraped the paint off with 1000 grit sandpaper, then shot a light coat of clear coat. Doing this smooths the plastic back out and allows it to be glossy when repainted. At the same time I wet sanded and clear coated the front of the jewels so they'd be shiny.
Step five: Repaint. I used model car paints and art brushes. After the shields and chrome surrounds are dry, I sprayed the back with gloss black spray paint. A lot of it. I must have put on 4 or 5 coats.
Step six: Installation is the reverse of removal.
Before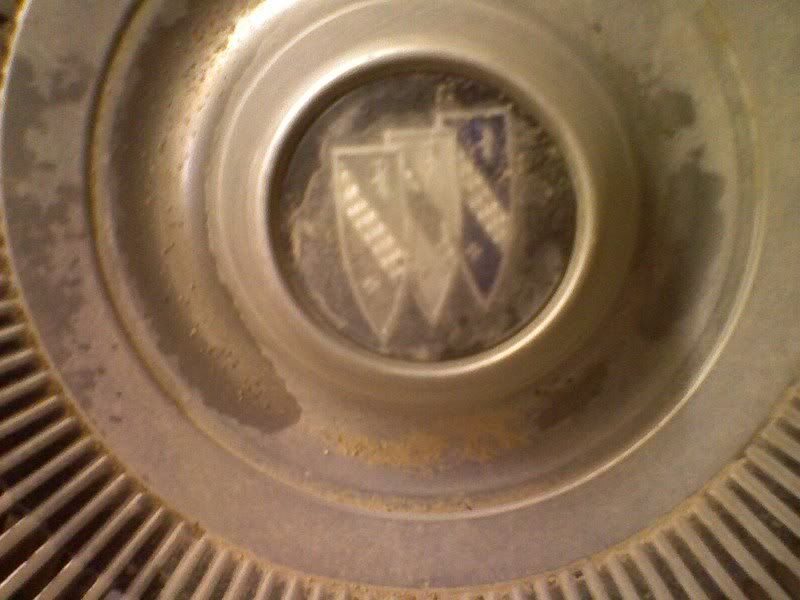 After restoration